British Academy Film Awards yang ke-69 udah selesai diselenggarain. Siapa aja pemenangnya?
Buat film The Revenant, BAFTA 2016 jadi ajang pembuktian kalau mereka emang beneran sukses berat. Dalam acara yang diadain pada 14 Februari 2016 kemarin di Royal Opera House, London, The Revenant memborong lima piala sekaligus, termasuk penghargaan tertinggi sebagai Best Film dan Lead Actor buat Leonardo DiCaprio. Pemenang Lead Actress diraih oleh Brie Larson lewat film Room.
Sementara itu, mantan lawan main Leo di film Titanic, Kate Winslet juga berjaya nih di BAFTA 2016. Doi berhasil memenangkan penghargaan dalam kategori Supporting Actress berkat perannya dalam film Steve Jobs. Walaupun filmnya sendiri nggak sukses-sukses banget di box office, akting Kate dianggap superb dan ngalahin empat pesaing lainnya, yaitu Alicia Vikander, Jennifer Jason Leigh, Julie Walters, dan Rooney Mars.
British Academy Film Awards udah diselenggarain sebanyak 69 kali untuk mengapresiasi para aktor dan aktris asal Inggris serta industri perfilmannya. Nah langsung aja nih diliat daftar pemenang-pemenang dari BAFTA 2016:
Best Film
WINNER: The Revenant
The Big Short
Bridge Of Spies
Carol
Spotlight
Outstanding British Film
WINNER: Brooklyn
45 Years
Amy
The Danish Girl
Ex Machina
The Lobster
Outstanding Debut By A British Writer, Director Or Producer
WINNER: Naji Abu Nowar (writer/director) Rupert Lloyd (producer) – Theeb
Alex Garland (director) – Ex Machina
Debbie Tucker Green (writer/director) – Second Coming
Sean Mcallister (director/producer), Elhum Shakerifar (producer) – A Syrian Love Story
Stephen Fingleton (writer/director) – The Survivalist
Film Not In The English Language
WINNER: Wild Tales
The Assassin
Force Majeure
Theeb
Timbuktu
Documentary
WINNER: Amy
Cartel Land
He Named Me Malala
Listen To Me Marlon
Sherpa
Animated Film
WINNER: Inside Out
Minions
Shaun The Sheep
Director
WINNER: The Revenant – Alejandro G. Iñárritu
The Big Short – Adam Mckay
Bridge Of Spies – Steven Spielberg
Carol – Todd Haynes
The Martian – Ridley Scott
Original Screenplay
WINNER: Spotlight
Bridge Of Spies
Ex Machina
The Hateful Eight
Inside Out
Adapted Screenplay
WINNER: The Big Short
Brooklyn
Carol
Room
Steve Jobs
Leading Actor
WINNER: Leonardo Dicaprio – The Revenant
Bryan Cranston - Trumbo
Eddie Redmayne - The Danish Girl
Matt Damon - The Martian
Michael Fassbender - Steve Jobs
Leading Actress
WINNER: Brie Larson – Room
Alicia Vikander – The Danish Girl
Cate Blanchett – Carol
Maggie Smith – The Lady In The Van
Saoirse Ronan – Brooklyn
Supporting Actor
WINNER: Mark Rylance – Bridge Of Spies
Benicio Del Toro - Sicario
Christian Bale - The Big Short
Idris Elba - Beasts Of No Nation
Mark Ruffalo – Spotlight
Supporting Actress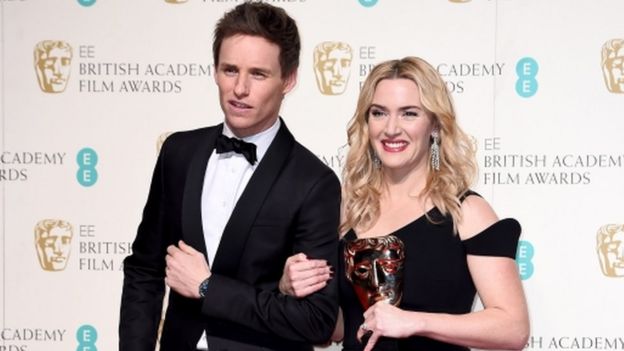 WINNER: Kate Winslet – Steve Jobs
Alicia Vikander – Ex Machina
Jennifer Jason Leigh – The Hateful Eight
Julie Walters – Brooklyn
Rooney Mara – Carol
Original Music
WINNER: The Hateful Eight – Ennio Morricone
Bridge Of Spies
The Revenant
Sicario
Star Wars: The Force Awakens
Cinematography
WINNER: The Revenant
Bridge Of Spies
Carol
Mad Max: Fury Road
Sicario
Sound
WINNER: The Revenant
Bridge Of Spies
Mad Max: Fury Road
The Martian
Star Wars: The Force Awakens
Special Visual Effects
WINNER: Star Wars: The Force Awakens
Ant-man
Ex Machina
Mad Max: Fury Road
The Martian
The Rising Star Award (voted By The Public)
WINNER: John Boyega
Bel Powley
Brie Larson
Dakota Johnson
Taron Egerton